Example Of A Narrative Essay About Friendship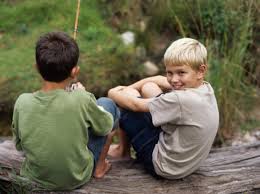 In blistering Nebraska, it was America's Independence Day. As usual on every Independence Day since I was five years old, George and Terry, my two best friends, and I, went on a manly picnic. I diligently carried out my household chores, packed my picnic bag and off I went to collect my friends by way of bicycle. It is going to be an awesome day, I thought to myself as I sped down my neighborhood street on my beat-up blue Schwinn.
George and I were born on the same day, March 14th, 1984. His father and my father were best friends from their days at King James High School. Their story is much like an old-fashioned novel or film about two lifelong best friends. They joined the U.S. Marines and both got married the same year. Intriguingly, they had their firstborns in the same year as well. As fate would have it, George and I became close friends. I did not have a sibling, and George became a sort of twin brother to me. We saw each other almost daily, involving ourselves in our selfsame talent: soccer. We both enjoyed defending
Did you like this guide / sample?
Sign up and we'll send you ebook of 1254 samples like this for free!
80+ essay types
1000+ essay samples
Pro writing tips
Related Writing Guides
Writing a Narrative Essay
A narrative essay is a form of academic writing that is built around a narration of a certain event or situation. It is a short form of a narrative novel. Its main objective is to tell a story that it is both engaging and interesting to the reader. A nar...
That's Interesting!
A Mistake and A Good Friend
by Inja
June 2, 2013
The memory of living in Japan is a big part of my life. Sometimes I browse through an old album because I miss my life in Japan. The images are clearly fixed in my mind even as time goes by. Although there were many valuable people I have met while I was in Japan, I especially miss my best friend, Kanzaki.
After I got married to my husband, James, we both were very satisfied with our married life in Korea. We had decent jobs and two wonderful daughters. Nothing was insufficient in our lives. However, one day, James asked, "What do you think if I would finish my master's degree in Japan?" I said, "I will think about it," even though I knew he had made up his mind and was asking my opinion after he had finished planning our future lives. I also knew from the beginning that he is a man with a big dream.
Moving to Japan would mean that we would have to start from zero without a job. Obviously, this was a big challenge for our family. Thus, we decided that he should leave for Japan first by himself to reduce the risk as much as possible. We had to live separately, and he came home for a few days every few months. Living separately from my husband, I realized we are missing out on such a worthwhile family experience that normal couples with children are going through. Two years after he left Korea, I moved to Japan with my two daughters, three and one years old.
New life in Japan was fearful but exciting. I barely spoke Japanese and only knew some medical terminologies and greeting words. When I met my neighbors, I just smiled and nodded to them like a mute. I had no friends in the first couple of months, and there was no Korean around our house. Japanese and Korean look similar; however, they have significant differences in language and culture.
After finishing all processes to settle in Japan, my two daughters were able to enter a government-sponsored day care center. It was about fifteen minutes away by walking from home. There were no foreign children in this center. On the first day, one teacher provided us with orientation. She seemed like a mother and looked older than me. She was tall and slender. Her egg-shaped, white face had round eyes, a double eyelid and thin, cherry lips. She wore light makeup that looks natural. She was nimble in her work and walked with a quick light step. This was my first time to meet my best friend, Kanzaki.
Every Monday morning, I had to bring a couple of sleeping pads, clean clothes and diapers for my two daughters. And then, every Friday afternoon I had to return the sleeping pads to home to dry them under the sun. Most parents delivered the stuff by a car or a bicycle because the stuff was too heavy to carry by hand. When my husband wasn't at home because of his class or part-time job, then it was my job. I couldn't ride the bicycle at that time (but my husband could), so I had to deliver my children and the stuff in two or three trips on foot.
A few days later, the telephone bell rang when my husband was not at home. The sound of the telephone bell intimidated me at that time because I would not be able to communicate with the caller.
I became nervous—my heart was beating like a very loud stereo.
I felt a shiver.
Heat spread within my body as fast as the speed of light.
My face was smeared with sweat.
I just said, "Moshi moshi"(Hello)
I recognized the teacher's voice, but I couldn't understand what she was saying. The only thing I could perceive was that it was an emergency. I could remember just one word. She said, "Gesa . . ." I thought that my daughter had diarrhea and she needed new clothes and another sleeping pad. Thus, I dashed at full speed, carrying the heavy package. The heavy package left red deep lines and gave a dull cutting pain on my both palms. I was panting and dripping with sweat.
I greeted the teacher, "Good morning."
She replied, "Good morning," a dumbfounded look on her face.
However, I couldn't understand why the teacher had puzzled looks on her face. The teacher pointed to her teeth and toward the swings that the other children were on. I found my second daughter, yet I couldn't find my first one. Intuitively, I could realize that Minji, my first daughter, was involved in anaccident on the swing. My first child, Minji, was docile and careful. She was calm and never whined. She was girlish. My second child, Yooji, was my lovely baby who always smiled at everybody.
After my husband came to the center, I knew that meaning of "gesa" is "in the morning" in Japanese, and I misunderstood it as "geri," which means "diarrhea." Minji crashed into the swing that other friends rode on because she couldn't understand Japanese like me, even though the teacher kept yelling "abunaii"("It is dangerous"), calling her name. Unfortunately, Minji lost two front teeth.
After this accident, the teacher and I became friends. She told me with a warm and soft voice like my real older sister. Her face was always filled up with a bright smile. She taught me Japanese enthusiastically while I taught her how to make the Korean traditional foods: kimchi, bulgogi, and jobche. I asked her, "Isn't this kimchi too hot for you?" when she tasted it the first time. She answered, "No, it's delicious," though her face flushed and beads of sweat appeared on her nose. She particularly loved kimchi and was modest and generous with compliments. She always said, "You are so smart, I don't know even a single Korean word," when I struggled with Japanese. Her passionate teaching would push me not to give up Japanese. Thus, I studied Japanese very hard. As a result, I was able to get a full-time job one year later.
This was one of the most embarrassing incidents that has ever happened to me. At that time, I regretted moving to Japan. However, as time passed, I realized that these challenges made me a stronger person and also gave me an opportunity to meet valuable people in my life. We all make mistakes, but we learn from our mistakes. In my case, I even gained a valuable friend for life.
1094 words